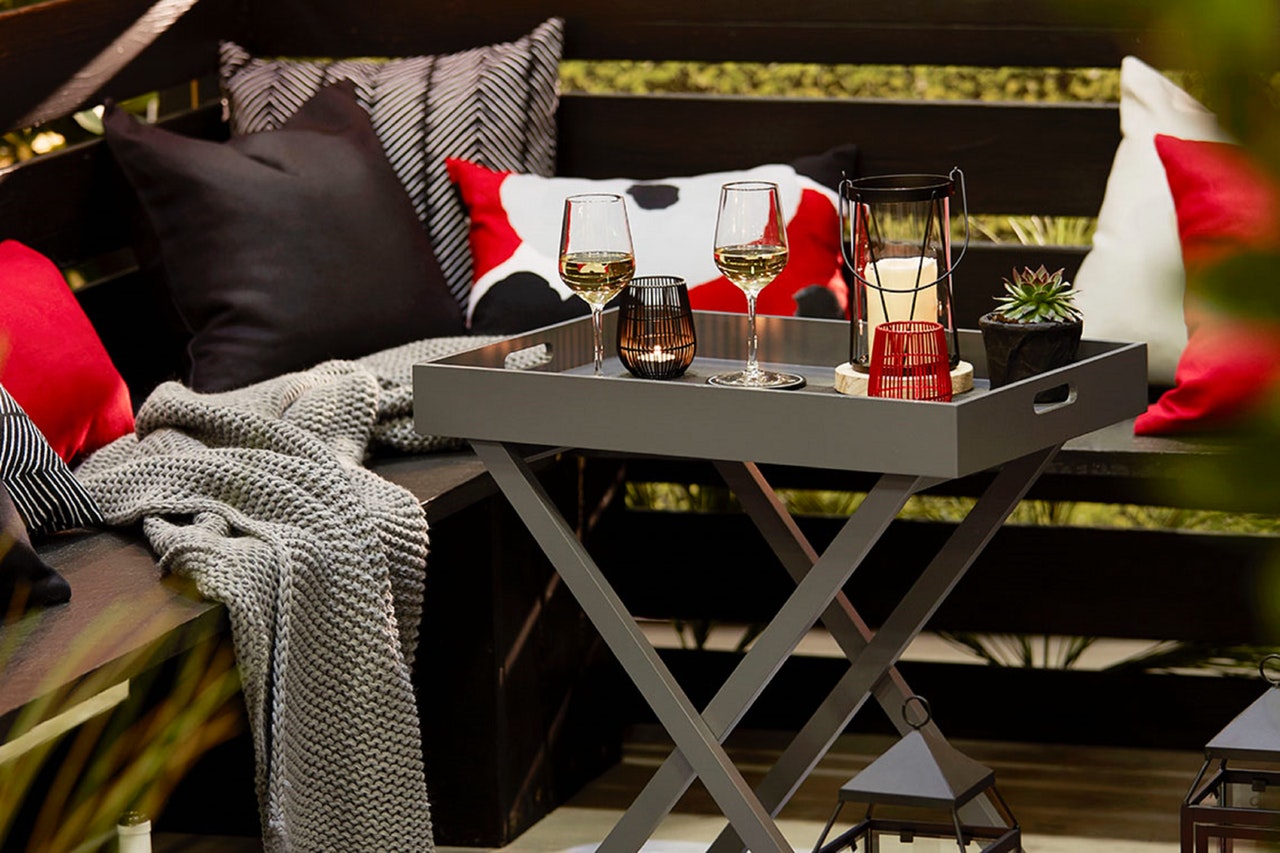 With a long summer season full of warm weather, bright sunshine, and clear skies, many people are taking their evenings and celebrations al fresco. If you don't want to keep your weekend get-togethers inside but feel like your patio isn't well-designed or suitable to hold all of your guests, we have some ideas on how to make the most out of your space and bring in some fun elements to get people talking as well.
There's no such thing as too much storage. Let's be honest, your backyard can just be a hodgepodge of outdoor tools and activities, which isn't very inviting. Look into benches and seating that includes storage elements. It can stylishly hold all of the outdoor items you've collected and be used as added seating for your guests.
Consider furniture that uses the space wisely. If you don't have a patio that can suitably fit a large table for all of your guests or a bar cart that holds all of the drinks you're planning to serve, look into furniture that is collapsible. It allows you to pull out the added length and width when you need it, and fold it away when you don't.
Brighten up the outdoor space. Whether you indulge your artistic side to paint the concrete in a beautiful design, add a fun outdoor rug, or bring in some bright throw pillows and blankets, this is where you can add unique touches that show off your style. Think outside the box as well. Consider hanging small planters and mounting others to the wall and fence. They bring a special touch to your backyard without taking up the space a full-fledged garden can.
Lighting is everything. It's important to make sure that your outdoor lights are working, but when the sun sets, you're going to need more lighting than one lightbulb can provide. String lights add a cozy feel and help everyone see what they're doing and where they're going. Bring in a festive feel with tiki torches and lanterns.
Find ways to make the space feel bigger. Just as mirrors can reflect light and make rooms feel bigger inside, they can do the same for an outdoor patio. Think about mounting a mirror along a wall or fence, and incorporate some greenery or designs that tie the design together.
If your current backyard just doesn't fit your entertainment and space needs, contact our team. We're always happy to help you buy or sell a home!
Wondering what your home may be worth? Receive a free comparative market analysis of your home.
We also have Buyer's Resources and Seller's Resources available for you!